Hoosier Tire East Store – Buy Race Tires Online
22371 7.1/11.0-5 Hoosier Sprint Kart Tire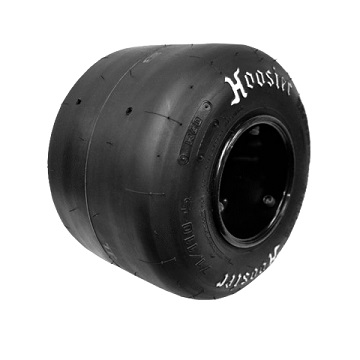 A one-time price of
$56.50
will be added to your order.
*A handling fee of $5.00 per item will be added to your shipping total at checkout.
Description
Specifications
Hoosier Sprint Kart Tire 22371 7.1/11.0-5 Compounds: R60A, R60B The R60A is a medium compound designed for open competition racing or ultra-high performance applications. The compound's unique composition offers high levels of traction, without compromising consistency and durability. The R60A is ideal for those who require an exceptional level of driver confidence and grip. The R60B is a medium-hard compound that was designed using the R60A platform. This compound has been slightly modified to have a higher cold durometer (2-3 points) and better longevity without negating performance. The R60B offers drivers a more durable high performance tire option that does not degrade on the most demanding classes and track conditions in the industry.
Tire Size: 7.1/11.0-5 Thread Width: 6.375" Approximate Diameter: 11.0" Approximate Circumference: 34.0" Recommended Rim: 8-8.25" Measured Rim: 8.25" Section Width: 8.50" Compounds: R60A, R60B