Hoosier Tire East Store – Buy Race Tires Online
22380 7.1/11.0-5 Hoosier Sprint Kart Tire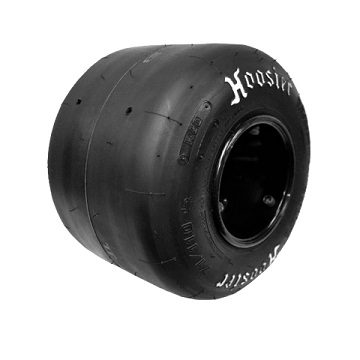 A one-time price of
$52.00
will be added to your order.
*A handling fee of $5.00 per item will be added to your shipping total at checkout.
Description
Specifications
Hoosier Sprint Kart Tire 22380 7.1/11.0-5 Compound: R70 The R70 is an economy sprint compound designed with the budget racer in mind. This distinctive compound exudes superior wear resistance without sacrificing the performance aspect inherent to racing. The R70 is synonymous with consistency and is ideal for clubs or series seeking a low cost tire designed specifically to curb racing expenses and promote driver parity. The R70 is our hardest compound offering for 5" sprint applications. The recommended starting pressure for the R70 is 15-18 psi (cold). Air pressure change is dependent upon track condition. As the track tightens up, you may want to decrease your air pressure to keep the kart free. If the track loses grip, you may want to increase your air pressure to maintain comfortable grip levels.
Tire Size: 7.1/11.0-5 Thread Width: 6.75" Approximate Diameter: 11.0" Approximate Circumference: 34.25" Recommended Rim: 8-8.25" Measured Rim: 8.25" Section Width: 8.625" Compound: R70